A handful of U.S. content creators will be able to share NFTs on the social network Instagram starting this week.
Instagram starts testing NFTs on its platform
Instagram is finally entering the world of NFT. Parent company Meta had initially announced plans to create an Instagram NFT marketplace as early as March 2022, but unsurprisingly, this had led to months of consideration. However, this week, Mark Zuckerberg confirmed that the famous social network will finally start testing NFTs this week.
Indeed, in a video posted on Zuckerberg's Facebook and Instagram accounts, the social media patriarch was seen talking with entrepreneur and prominent influencer NFT Tom Bilyeu About the upcoming "digital collectibles" on Instagram. "This week, we're starting to test digital collectibles on Instagram so that creators and collectors can post their NFTs on their profiles," the Meta CEO wrote under the video "A similar feature will be coming to Facebook soon, as well as augmented reality NFTs on Instagram Stories via Spark AR so you can place digital art in physical spaces," he said in the video.
What does it all mean? In short, soon, Instagram users will be able to post NFTs via their profiles: the result of Meta's ongoing efforts to expand the possibilities of self-expression on social networks and in the metaverse.
A free feature
In an email to NFT Now, Meta communications representative Christine Pai confirmed that there would be no fees associated with posting or sharing a digital collectible on Instagram. She also explained how digital collectibles will work on the social network.
To start, creators and collectors in a defined test group will be able to publish NFTs they have created or own by linking third-party digital portfolios into the app. Compatible wallets currently include Rainbow , MetaMask and Trust Wallet . The support of Coinbase , Dapper and Phantom will follow soon. Blockchains supported at launch include Ethereum and Polygon . Flow and Solana will be added later. This diverse approach should attract a wide variety of crypto enthusiasts to use these upcoming Instagram tools.
A press release sent out by Meta's communications team also gave a glimpse of what Instagram's new NFT features will look like.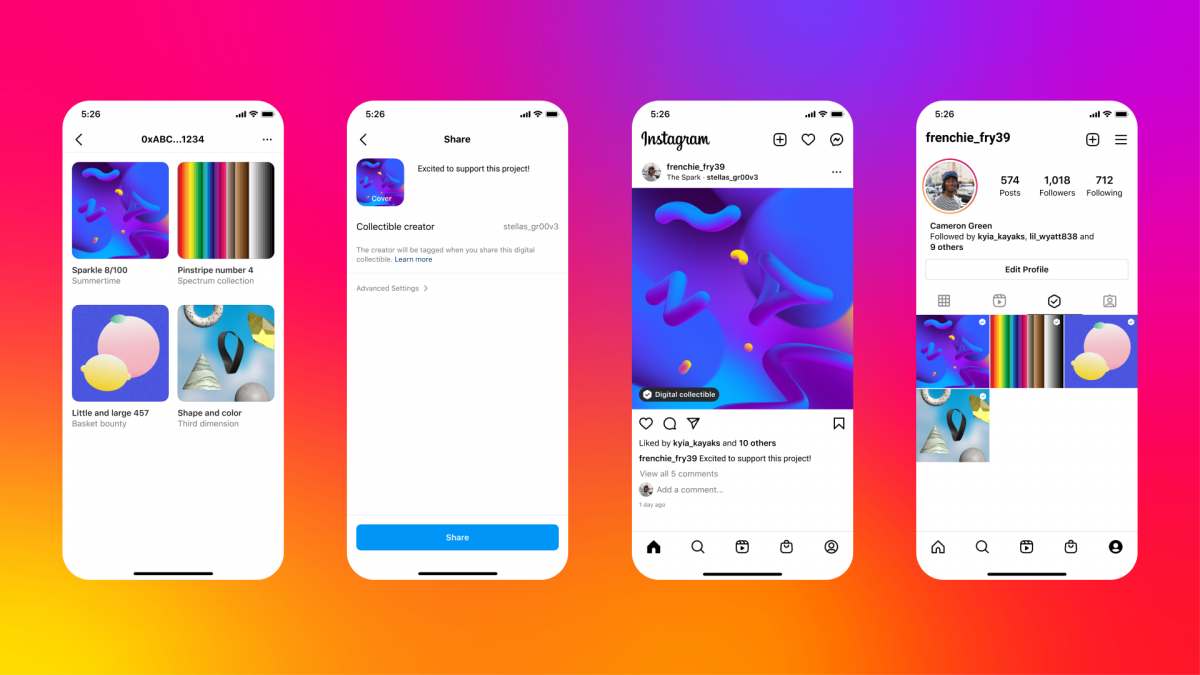 In the video, Zuckerberg also explained why the company was getting into NFTs, saying the company wanted to help creators make money. "I think a big part of what we need to do is really look at all the different ways that creators could make money. So some of those things will be things like trade support, some of that will be NFTs and ownership around that. Part of it will be to make it easier for people to pay for things"he said.
>